Course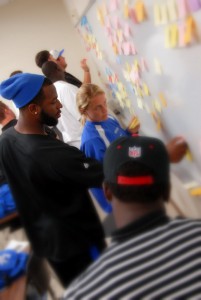 Overview of Course Offered by the dLab
The dLab currently offers a course in design thinking suitable for undergraduate and graduate students.
EDL 571 – Design Thinking in Education – 3 credit hours
Professor: John Nash, Department of Educational Leadership Studies
Design Thinking in Education is a course in which students work on challenges facing the community. The class is focused on a participatory, design thinking approach, with particular attention to the needs of project partners who offer real-life challenges for students to work on.
Students work in collaborative teams on semester-long projects in collaboration with partner organizations, field liaisons, and multi-disciplinary experts. Students are exposed to the process of human-centered design, and hone their skills in need finding, problem definition, brainstorming, prototyping, and user testing.
The course consists of hands-on labs, guest speakers, and a guided design process.
Course Goals:
To develop prototype solutions to heretofore intractable challenges in education.
To practice design thinking in a real-world context.
To learn the tenets of human-centered design.
To learn how to create hands-on prototypes.
To develop problem-solving and critical thinking skills.
To recognize the potential impact of creative thinking, design thinking and innovation in the world.
Stay in the know about our projects and where we'll be presenting next.
Subscribe to Our Mailing List