Design Thinking in Education
Educational Leadership Studies (EDL) 571
We teach students how to solve wicked problems
"The problem is not the problem."
Check out this short film showcasing our course, "Design Thinking in Education," at the University of Kentucky. Our students took on the challenge of improving the patient diagnostic experience for cancer patients with the Markey Cancer Center. See how students apply design thinking to help understand users' needs and create meaningful solutions. You'll see how design thinking is applied to a real-world problem, which helps students understand how to approach future challenges in their lives.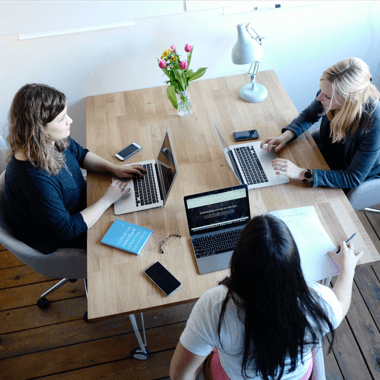 Learning should be transdisciplinary
Certain skills are crucial for success in today's workplace. Among these skills are communicating complex ideas effectively, collaborating efficiently, and thinking critically. At the same time, the solutions to society's most complex issues are often found at the intersection of different disciplines, where a transdisciplinary approach is taken. 
By bringing together individuals from various fields to solve a problem, we can integrate perspectives and create new knowledge.
By adopting a transdisciplinary approach and developing employability skills, we can create innovative solutions to some of the most pressing issues facing our society today.
Our course does the following:
Brings together multiple disciplines and perspectives: By bringing together a diverse team of learners from multiple disciplines, this model can provide a more comprehensive and effective solution to complex problems.

Develops transferable skills: By participating in transdisciplinary projects and working with stakeholders, students develop a range of transferable skills such as teamwork, communication, problem solving, and leadership. These skills are highly valued by employers and can be applied in a variety of industries and professions.

Provides real-world experience: Students gain hands-on experience working on real-world problems, helping them connect their learning to the needs of stakeholders and understand the practical applications of their skills and knowledge.

Encourages innovation and creativity: The transdisciplinary approach to problem solving encourages students to challenge assumptions, embrace failure as a learning opportunity, and think creatively about solutions. This can lead to more innovative and effective solutions to complex problems.
Not a University of Kentucky Student?
We'd love to share our knowledge and experience with you
Let us bring the best of our teaching to you. Our 1-day workshop is designed to provide participants with practical experience in applying design thinking to a real-world challenge. Your teams practice discovery techniques, generate solutions through brainstorming, and rapidly prototype solutions to one of your challenges. Participants develop their design thinking skills and you'll exit with strategies for incorporating design thinking into your ways of working. Many ideas generated by participants in past workshops are put into action.
We also offer a live three-hour experience delivered at your site or online via Zoom. You experience a full design thinking cycle that touches on the fundamental values human-centered design: a bias towards action, and a culture of iteration, and rapid prototyping. At the end you will have a chance to unpack the results of the activity and tie them back to the day-to-day challenges you and your colleagues face in work and life.
Bring our course to your organization
Our workshops provide practical experience and valuable strategies for incorporating design thinking into your ways of working, resulting in enhanced problem-solving skills and a more action-oriented, collaborative culture. The benefits of a hands-on experience applying design thinking include:
Learn more about what the dLab does
Drop us a line and keep in touch